The mandatory annulment or postponement of meetings, appointments, and all kind of corporative events due to the COVID-19 crisis has brought about the need of finding alternatives for companies to remain as active as possible. All of this, aimed to ensure business continuity and thus, minimize the economic impact of the pandemic. 
Technology has once again become the answer to many of the corporative needs, and virtual events are the chosen setting for the professionals and the business leaders who did not want to be left behind. 
And that is because, this type of virtual platforms provide a way of connecting in places which break the constrains of physical environments, becoming tools of extraordinary power in situations where a company has delegates in various geographical areas, remote workers or in the case of requiring a number of participants to be involved.    
While it is true that applications such as Skype, Zoom or hangouts are effective options for video conference meetings or web seminars, they are not designed to hold events where hundreds of attendees take part simultaneously and aim to interact with each other. 
This is precisely the value of avatar-based platforms: the interactivity. That is why this is the next step companies should take and use in their strategies. It is not enough to have the events done virtually, it is necessary to use scenarios where the 'personal contact' feels as real as possible, where our relations are close despite being afar. 
This is precisely where interactive avatars shine: they can mimic the experience of assisting a real-life event, just like we usually do, but in a virtual format. To achieve this, all the participants are recreated – closely resembling their physical appearance – and can hold a conversation and talk naturally through an IP voice. 
These technological advances may still sound like science-fiction for some, but in reality, 3D avatars are our alter ego in the virtual world, a representation of ourselves that allows us to take part in a wide amount and variety of virtual events. 
3D AVATARS: THE NEW PROTAGONISTS IN THE GAMIFICATION OF CORPORATE EVENTS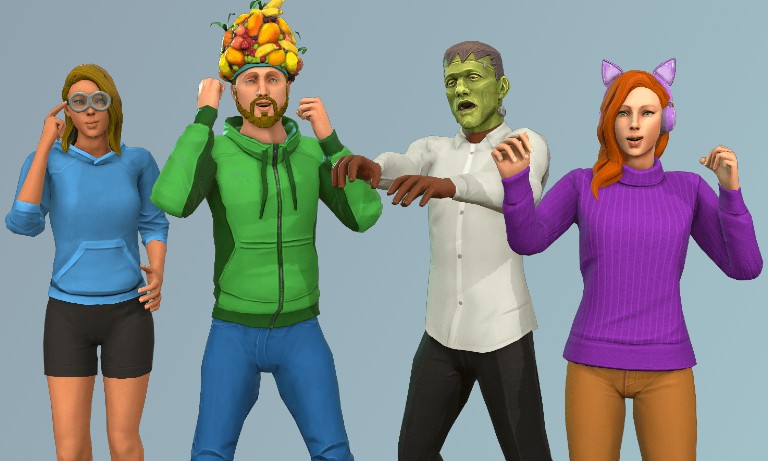 Virtual platforms already marked a turning point when organizing corporative events in the past, and now, they have undoubtedly become the best alternative to follow the lockdown rules and ensure remote work. Nevertheless, technology is unstoppable, and it was the time to create an option that allowed gamification while ensuring real-time connection between its users. 
And, as we mentioned above, event platforms with avatars are the answer. Several proposals have marked this technological landscape, but the one from Virtway Events has stand out from the rest due to various factors: the realism of their interactive avatars, the high level of interaction between them and the technology behind it.  
In fact, the 3D audio applications in their avatars allow conversations of all kinds for all sorts of events, from conferences, to team building or breakout sessions, networking activities, online courses or webinars, among others… they even modulate the volume in real-time, depending on the proximity between avatars.  
As if this were not enough, these interactive avatars can also exchange any type of information in different formats, and even show emotions through animations (such as clapping or greeting).  
The examples of virtual events based on avatars are diverse, but these scenes are the most frequently used by companies when celebrating a virtual corporative event: 
Trade fairs, conventions, and conferences: 

in these scenes, avatars have mainly an interactive role. For example, in a convention, fair or any other type of commercial activity, businesses can arrange their booths or information stands with 3D avatars that stand for the company representatives. This way, attendees will be able to contact with assistants and solve their doubts in the moment.





Technology provides the possibility of organizing corporative events with realistic avatars that will not only meet the needs of the participants, but also draw their attention. Virtual meetings are followed through a screen, so we risk losing our audience's interest and that they may exit the meeting. To avoid that, it is necessary to present a virtual platform attractive enough that recreates these real-life situations with a touch of creativity.  

Virtual Team Building activities: it covers a series of activities for remote workers, designed to turn into interactive virtual meetings which feel real and look for the closeness among the assistants. The 3D interactive avatars resemble each of the participants, both employees and activity organizers.

There are several Team Building activities available, from games to conferences and meetings. However, there is one which is specially active and requires a lot of communication between the participants: virtual Escape Rooms with avatars, an activity in which, without the need of using VR goggles, you experience a completely immersive environment with outstanding results.

Virtual meeting rooms: 

online training should not just limit to employees taking courses with interactive content, it should go a step further and become a school that provides its assistants with a highly interactive virtual learning experience.

 

 

For that, virtual training systems based on avatars are the ideal tool to offer an authentic digital experience for collaborative learning. Each avatar can be personalized, which enhances the sense of being face-to-face. It is also possible to ask questions in real time, have a conversation, as well as exchange information in different formats. 
Virtual event platforms with 3D avatars give us the chance of recreating realistic situations as well as designing immersive experiences inside this virtual world. The technology behind each of these interactive avatars makes it possible to use them in corporate virtual scenarios which ensure fully interactive and realistic activities.